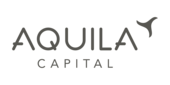 Address
Valentinskamp 70
D-20355 Hamburg
Contact Person
Christian Holste
Phone
+49 40 87 50 50 100
Branches
Hamburg, Zurich, 12 further international branches
Year of establishment
2001
Active in Germany since
2001
Managing director/board member
Dr. Dieter Rentsch, Roman Rosslenbroich
Profile
Aquila Capital is an investment and asset development company focused on generating and managing essential assets on behalf of its clients. By investing in clean energy and sustainable infrastructure, Aquila Capital contributes to the global energy transition and strengthens the world's infrastructure backbone. The company initiates, develops, and manages these essential assets along the entire value chain and lifetime. Currently, Aquila Capital manages around EUR 13 billion on behalf of institutional investors worldwide. Our primary objective is to generate performance for our clients by managing the complexity of essential assets.
Established in 2001, Aquila Capital is founder- and partner-owned. The shareholders are backed by a minority stake of Daiwa, one of the largest Asian investors. Over the last two decades, Aquila Capital and its subsidiaries explored, projected, and engaged in meaningful trends for mankind and our planet.
Today, the company manages wind energy, solar PV and hydropower assets of more than 12 GW capacity. Additionally, 1.8 million square metres of sustainable real estate and green logistics projects have been completed or are under development. Aquila Capital also invests in energy efficiency, carbon forestry, and data centres. Aquila Capital has been carbon neutral since 2006. Sustainability has always been part of our value system and is an integral part of our investment strategies, processes, and management of our assets. The company has around 600 employees from 48 nations, operating in 15 offices in 13 countries worldwide.
Assets in the field of AI
-
Number of employees
600 (including in the AI area: -)
Regional focus
Europa, APAC
Target group
institutional investors
(Supervisory) registration at / since
BaFin (01.01.2003)
BAI-Member since
01.01.2004
back