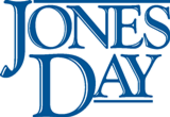 Address
Thurn-und-Taxis-Platz 6
D-60313 Frankfurt
Contact Person
Dr. Nick Wittek
Branches
Amsterdam, Atlanta, Beijing, Boston, Brisbane, Brussels, Chicago, Columbus, Dallas, Detroit, Dubai, Düsseldorf, Frankfurt, Hong Kong, Houston, India, Irvine, London, Los Angeles, Madrid, Mexiko-Stadt, Miami, Milan, Minneapolis, Moscow, Munich, New York, Paris, Perth, Pittsburgh, San Diego, San Francisco, São Paulo, Saudi Arabia, Shanghai, Silicon Valley, Singapore, Sydney, Taipei, Tokyo, Washington
Year of establishment
1893
Active in Germany since
1991
Managing director/board member
Ansgar Rempp, Partner-in-Charge Germany
Profile
Jones Day is a global law firm with 42 offices and 2500 lawyers worldwide. Its unique governance system fosters an unparalleled level of integration. Jones Day has ranked #1 for number of deals worldwide since 2000 in the Thomson Reuters and Bloomberg league tables. We provide significant legal representation for almost half of the DAX 30 companies. The Firm's German offices with more than 100 lawyers are located in Düsseldorf, Frankfurt and Munich.

We give advice to Investmentfunds (PE-, VC-, Real Estate-, Infrastructure-, Renewables-, Debt- and Hedgefonds) and advise on alternative financing structures like securitisations across the entire life-cycle i.e.: launching, structuring, regulation, financing and marketing as well as transctions and the use of particularily cross-border derivatives. We operate in all key economic centers and fund centers (including London, Paris, Frankfurt, Amsterdam, Milan and Madrid) but also in the US, Singapore and Hong Kong.
Assets in the field of AI
-
Number of employees
Lawyers worldwide: 2.500; Staff worldwide: 2.200 (including in the AI area: -)
Regional focus
All major centers of business and finance throughout the world including Germany (Düsseldorf, Frankfurt, Munich), London, Paris, Milan, Madrid, Amsterdam, Brussels, Singapore, Hong Kong, Peking and across all major cities in the US.
Target group
Investmentfunds (PE-, VC-, Real Estate-, Infrastructure-, Renewables-, Debt- und Hedgefunds), institutional investors, asset managers, AIFMs, financial service providers including banks, insurance companies and fintechs.
(Supervisory) registration at / since
-
BAI-Member since
01.06.2016
back