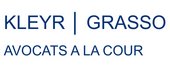 Address
7 rue des Primeurs
LU-2361 Strassen
Contact Person
Mevlüde-Aysun Tokbag
Year of establishment
1994
Active in Germany since
Advice of German clients since 1994 from Luxembourg and creation of the German Desk in 2002.
Managing director/board member
Marc KLEYR, Managing Partner
Profile
KLEYR GRASSO is an independent full-service business and litigation law firm serving international and domestic clients for over 28 years in Luxembourg with the highest professional standards and entrepreneurial culture. Its teams of strongly committed partners and lawyers of different nationalities support local and international clients throughout their projects from inception to implementation.
The multilingual lawyers advise local and multinational companies from all industry sectors, leading institutional investors, private equity houses, banks, investment funds, and numerous other businesses in corporate M&A, restructuring and insolvency, private equity, capital markets, banking and finance, investment funds, real estate and construction, social and employment, dispute resolution and insurance and reinsurance, and in tax.
Assets in the field of AI
-
Number of employees
60 lawyers (of which more than 50% are German speaking lawyers) including qualified German lawyers (including in the AI area: 6)
Target group
Asset Managers, Sponsors, Investors, management companies, Private Equity firms.
(Supervisory) registration at / since
Luxembourg bar
BAI-Member since
01.07.2022
back