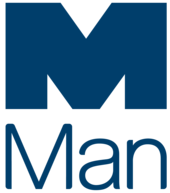 Address
Austraße 56
LIE-9490 Vaduz
Contact Person
Stefan Zopp
Headoffice
Man Group plc, London, UK Riverbank House 2 Swan Lane London, EC4R 3AD United Kingdom
Branches
Shanghai (China), Charlotte, NC (USA), Vaduz (Liechtenstein), Boston, MA (USA), Pfäffikon, SZ (Switzerland), Hong Kong (SAR), Tokyo (Japan), New York, NY (USA), Sydney (Australia), London (United Kingdom)
Year of establishment
1783
Active in Germany since
Man Group plc operates in Germany since 1993.
Managing director/board member
Luke Ellis, CEO - Man Group plc
Profile
Man Group is a global, technology-empowered active investment management firm focused on delivering alpha and portfolio solutions for clients. Headquartered in London, we manage over $120bn* and operate across multiple offices globally.
We invest across a diverse range of strategies and asset classes, with a mix of long only and alternative strategies run on a discretionary and quantitative basis, across liquid and private markets. Our investment teams work within Man Group's single operating platform, enabling them to invest with a high degree of empowerment while benefiting from the collaboration, strength and resources of the entire firm. Our platform is underpinned by advanced technology, supporting our investment teams at every stage of their process, including alpha generation, portfolio management, trade execution and risk management.
Man Group plc is listed on the London Stock Exchange under the ticker EMG.LN and is a constituent of the FTSE 250 Index. Further information can be found at www.man.com
*As at 31 December 2020. All investment management and advisory services are offered through the investment "engines" of Man AHL, Man Numeric, Man GLG, Man Solutions / FRM and Man GPM.
Assets
USD 123.6 bn AuM (per 31.12.2020)
Assets in the field of AI
USD 77.2 bn (per 31.12.2020)
Number of employees
1456 (including in the AI area: n/a)
Regional focus
i.a. Germany, Austria, Switzerland, UK, Nordics, Benelux, Italy, Iberia, Latin America, Asia, Australia, UAE, USA
Target group
Institutional investors, financial intermediaries, family offices, asset managers, fund of fund managers, private banks
(Supervisory) registration at / since
Man (Europe) AG with FMA (01.03.2013)
BAI-Member since
01.01.2000
back