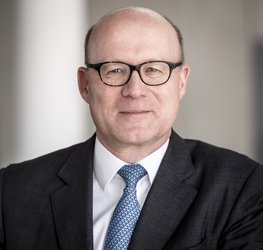 Andreas Kalusche (Co-Chairman) is CEO of Prime Capital AG in Frankfurt. He has been working there since August 2014 and is responsible for Investor coverage, distribution and solutions including international markets, public relations (incl. external appearance / marketing / communication) as well as the project management team.
Previously, he served as Managing Director at JPMorgan in Frankfurt and London for a total of 14 years, both in the markets and Investment Bank divisions, most recently as Head of Financial Institutions Group for Germany, Austria and Switzerland. Prior to that, Mr. Kalusche worked 7 years at HSBC Trinkaus & Burkhardt in Corporate Banking and Capital Markets - both in Dusseldorf and London.
Mr. Kalusche specializes in management and advising of a large variety of financial institutions (insurance companies, pension funds, banks, asset management companies) as well as corporates and family offices. His education and experience include asset management, capital management and raising of capital, risk management and ALM, as well as strategic advice in corporate finance and M & A. Mr. Kalusche has extensive transaction experience.
Mr. Kalusche holds a degree in Economics from the University of Hannover and is Wilhelm-Launhardt laureate of this University. He also studied at the Ecole Supérieure de Commerce in Rouen (France). Before graduating, he completed his training as a banker at Norddeutsche Landesbank in Hannover.
Mr. Kalusche regularly holds courses at the EBS University for Business and Law, Wiesbaden / Rheingau.

Mr. Kalusche is responsible for the departements public relations and alternative markets.