First Private Investment Management KAG mbH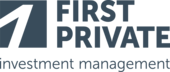 Address
Westhafenplatz 8
D-60327 Frankfurt
Contact Person
Richard Zellmann
Headoffice
Frankfurt am Main, Germany
Branches
Zug, Switzerland
Year of establishment
1991 (founded as Salomon Brothers KAG)
Active in Germany since
1991
Managing director/board member
Tobias Klein, Thorsten Wegner, Richard Zellmann
Profile
FIRST PRIVATE ist eine international agierende, unabhängige und partnerschaftlich geführte Asset-Management-Boutique aus Frankfurt. Bereits seit über 25 Jahren konzentriert sich FIRST PRIVATE dabei erfolgreich auf die Entwicklung und Umsetzung aktiver, quantitativer Investmentstrategien in den Bereichen "Aktien" und "Absolute Return".
Darüber hinaus verschafft FIRST PRIVATE als Initiator der Luxemburger Gesellschaft FP Lux Investments S.A. institutionellen Kunden Zugang zu Investmentlösungen im Segment Infrastruktur/Erneuerbare Energien.



Assets in the field of AI
n.a.
Number of employees
45 (including in the AI area: 16)
Regional focus
Eurozone, Europa und Global
Target group
Institutional investors
(Supervisory) registration at / since
- (01.01.1991)
BAI-Member since
01.10.2003
back