BERENBERG - Joh. Berenberg, Gossler & Co. KG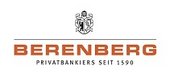 Address
Neuer Jungfernstieg 20
D-20354 Hamburg
Contact Person
Uwe Schwedewsky und Andreas Schlüter
Phone
+49 40 350 60-235 und +49 40 350 60-7862
Headoffice
Hamburg, Germany
Branches
Frankfurt, Munich, Geneva, London, Luxembourg, Paris, Vienna, Zurich
Year of establishment
1590
Active in Germany since
1590
Managing director/board member
Managing Partners: Dr. Hans-Walter Peters (Spokesman), Hendrik Riehmer
Profile
Berenberg is one of Europe's leading private banks, offering services in the divisions of Asset Management, Wealth Management, Investment Banking and Corporate Banking. Headquartered in Hamburg and led by managing partners, Berenberg maintains a strong presence in the financial centres of Frankfurt, London, New York, and Zurich.
Our Asset Management team offers innovative investment concepts (discretionary and quantitative approach) and professional risk management strategies. Our experts develop solutions tailored to the specific needs and investment objectives of institutional investors. Our management expertise comprises:
Equities – We manage German and European large, mid und small caps actively and bottom-up.
Fixed income – We have specialist knowledge covering emerging markets, short-term bonds and the use of sustainability (ESG) criteria.
Multi asset – We combine asset classes and strategies to react flexibly to changing market conditions.
Overlay strategies – We hedge interest rate, equity, currency and commodity risk systematically.
Liquid alternatives – Volatility-based strategies allow us to generate market-neutral earnings.
Assets
EUR 36.7 billion (Berenberg Group) (per 31.12.2018)
Assets in the field of AI
k.A.
Number of employees
1640 (including in the AI area: -)
Regional focus
DACH, Great Britain, U.S.
Target group
Institutional clients, Corporates, Third Party, HNWI
(Supervisory) registration at / since
BaFin (16.05.1978)
BAI-Member since
01.06.2017
back