PIA Pontis Institutional Advisors GmbH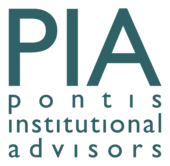 Address
SKYGARDEN Erika-Mann-Str. 7
D-80636 München
Contact Person
David Rückel
Year of establishment
2015
Active in Germany since
2015
Managing director/board member
David Rückel
Profile
PIA is a placement and structuring advisor sourcing European and especially German institutional capital for Real Estate & Infrastructure investment strategies around the globe. We help best-in-class managers and developers navigate through Europe when evaluating and executing capital raising strategies as well as strategic partnerships.
Assets in the field of AI
-
Number of employees
8 (including in the AI area: 8)
Regional focus
Europe, especially Germany
Target group
Institutional and semi-institutional investors as well as family offices.
(Supervisory) registration at / since
License pursuant to §34f GewO (German Commercial Ordinance), since 2015
BAI-Member since
01.12.2020
back